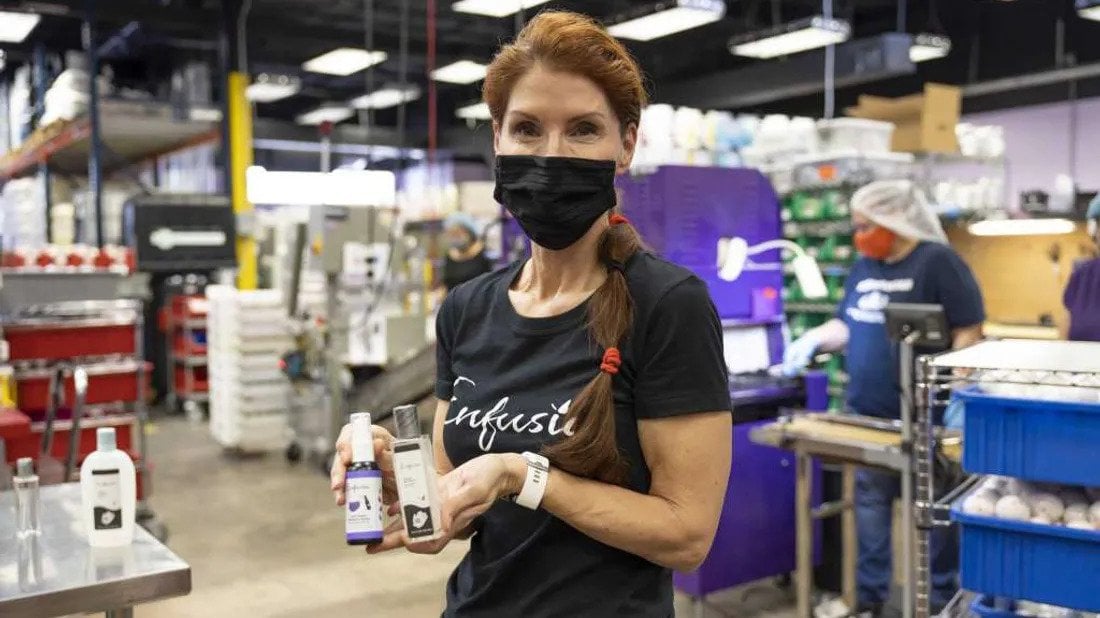 This article was originally published by Northwestern Mutual in their #openforbusiness series.
Small business owners have seen their companies change overnight due to the coronavirus. In our #openforbusiness series, we're highlighting Northwestern Mutual clients who have been forced to get creative in order to adapt to these unprecedented times and keep their businesses running. We hope you'll get inspiration from their stories and help support them whenever possible.
The harsh chemicals and fragrances in most traditional bath and body products always irritated my eczema. So, 15 years ago, I started Enfusia to manufacture and distribute artisan bath and body products such as bath bombs, soaks and soap. Our company philosophy is simple: rejuvenate, restore and renew — and our line of luxurious natural products has evolved as we've grown.
When the pandemic hit in early March, we got two large orders for hand sanitizer from two major Texas-based grocery stores for their employees. Here's how we got our hand sanitizer production up and running so quickly.
WE SHIFTED OUR PRODUCTION FOCUS
Hand sanitizer is regulated by the U.S. Food and Drug Administration because it's considered an over-the-counter drug. So before we could begin, we had to get the proper approvals. We managed to get these in 14 days.
Then, we worked hard to find to secure a domestic source of ethanol at a reasonable price that had the proper certificates of analysis for purity. Safety is super important, and we wanted to make sure what we use is clean and does not contain any methanol, which is quite dangerous if absorbed into the skin. While this was a challenge, our suppliers worked hard to get us what we needed and to keep the supply coming — even as everything turned into the Wild West.
Our next challenge was finding bottles. We ended up repurposing our own bubble bath bottles and our graphics team created new labels. We even got in touch with a competitor that had closed because of the pandemic to purchase the packaging they weren't using.
WE APPLIED FOR FINANCIAL ASSISTANCE
As soon as the Paycheck Protection Program started, we reached out to our local bank. We were approved almost immediately, and it helped us breathe. We had started cutting hours but we never laid anyone off. Getting the PPP loan meant we didn't have to worry about taking care of all 35 of our employees, which allowed us to focus on securing the raw materials and packaging we needed. In addition to the hand sanitizer, we introduced Enfusia Cloth Mask Refresher Spray. Our regular sales are down but the new products have not only helped cushion what could have been a tremendous blow to our company but their success also allowed us to give every employee a $500 bonus about 45 days into this new project.
WE RELIED ON OUR CUSTOMERS
I did not let fear control the decision to pivot. We reached out immediately to our long-term customers and asked for their input, and almost all of them offered their support. Fueled by their belief in us and our willingness to do the work, we made it happen. We are not the cheapest guy on the block, but we were transparent about our costs. The trust factor is huge; customers know we aren't inflating expenses and they know our products are safe and effective.
WE EXPANDED OUR PROMOTIONAL EFFORTS
We don't have a fancy PR department so everything we do in terms of promotion is grassroots. We have gotten some local coverage and we now post updates regularly on our Facebook and Instagram pages. It's a team effort. We post about FDA findings regarding hand sanitizers, ingredient education and some fun things, too. After all, social media is meant to be social — it can't just be us saying, buy my stuff!
WE ARE COMMITTED TO BUYING LOCALLY
Our products are manufactured by people, not machines — our products have kept people working through the pandemic. We think it's important for people to support American businesses, so we look for domestic suppliers first for everything we make. We then come closer and try to find it in Texas, and then one step closer in Houston. We want to know our suppliers and for them to know us. It matters — especially when things are difficult. Plus, if you can purchase products made closer to home, then make a commitment to do that. You may be shocked at the feeling you get from doing it. You can be part of the solution if you want to be.
What I've learned through this whole experience is that you don't need to see the end of the path — often just getting on the path and taking one step at a time is sufficient.