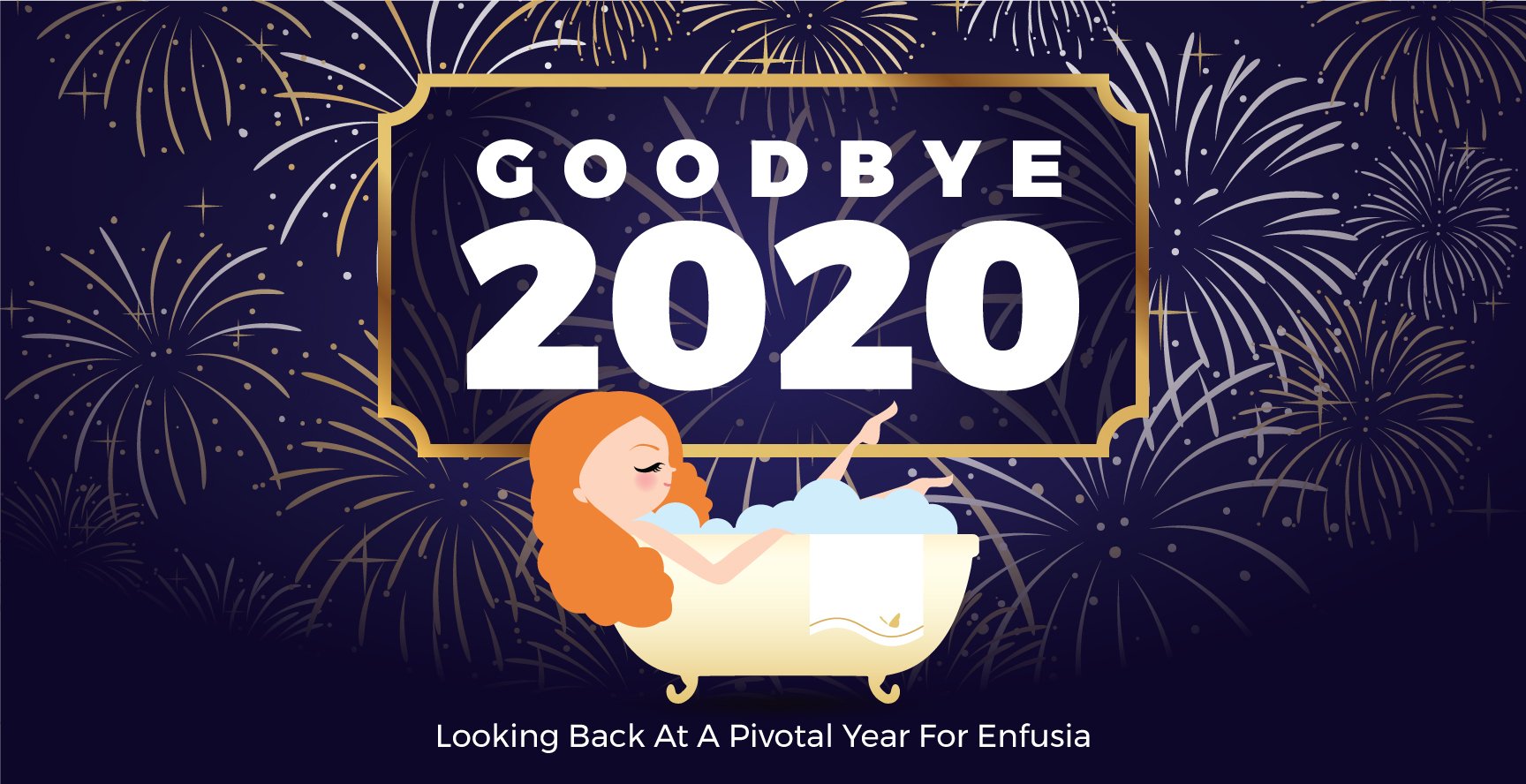 2020 has been a challenging year for many. At Enfusia, we are reflecting on this past year's highlights and challenges, including Enfusia's pivot in response to the COVID-19 pandemic, features in the news and media, new product launches and highlights, and fun and noteworthy mentions.
COVID-19 changed everything. In March, Enfusia faced a very real and scary decision: pivot to survive or close our doors forever. With Enfusia CEO Debra Myers' determination and leadership, we were able to not only pivot and survive, but thrive in spite of the seemingly insurmountable challenges that come with a global pandemic. Enfusia turned to manufacturing hand sanitizer to keep our doors open, but it wasn't easy! Many other businesses were also getting into the hand sanitizer business, which made sourcing raw materials and packaging very difficult.
We were able to overcome obstacles, keep our entire workforce employed, and help provide sanitizer to those who needed it. Enfusia provided many businesses with hand sanitizer when they needed it most. We supplied sanitizer to Bashas Grocers, AJ's Fine Foods, Whole Foods Market, H-E-B, and many more. H-E-B even awarded us their 2020 Supplier Diversity of the Year award!
Enfusia's ability to pivot led to some moments in the limelight this year. These included a feature article by Northwestern Mutual, a mention by Century Label, an article by the Conroe Courier, and even a news spot with Fox 26.
Our Cloth Mask Refresher Spray made a splash in the media too. This product was born from the struggle of having to wear a face mask all day, every day. Our first-to-market mask spray was featured in Health, Country Living, and Voyage Houston. The mask spray is now one of Enfusia's top-selling products!
Muscle Rehab's Bath Bombs for Athletes has also seen quite a bit of attention this year. It has been in Texas Lifestyle Magazine, E! Online, and Country Living. We have also seen athletes and people who live active lifestyles tag us on social media, including a few NFL players!
Pure CBD became available in more places than ever. This year has seen a steady growth of businesses and retailers throughout the contiguous United States selling Enfusia CBD bath bombs. We are hopeful that by next year Pure CBD Bath Bombs with Benefits and Bath Soaks with Benefits will be available from coast-to-coast! Check out our Store Locator to find a store near you or check out our online store.
2020 saw new products from Enfusia and some returning favorites got a visual update too. The gorgeous Heart Geode Bath Bombs debuted for Valentine's Day. The Heart Luxe Box, which features all Heart Geodes plus Unicorn Heart, even became an everyday item! Autumn Sugar and Dragon's Blood soaps and bath bombs got a visual overhaul this year; the bath bombs and soaps made use of more vibrant colors and the beautifully intricate marbling seen on most of our everyday scents. Muscle Rehab saw the release of a gift set, just in time for the holidays.
Enfusia had some fun, memorable moments in 2020. Early in the year, H-E-B asked us to have Unicorn Heart be a part of a book launch promotion for The Nuff, a children's book that was written by a mother who wanted her girls to know that they are enough. Lady Mary Beth, a lifestyle expert and gift-giver extraordinaire, stopped by Enfusia to get a behind-the-scenes look. This was also the first year that Enfusia took part in Wellness Month. For the entire month of August, Enfusia focused on different aspects of wellness and had sales related to those topics. Goldman Sachs even asked us to share the story of our COVID-19 pivot in their "10,000 Small Businesses" event webinar.
It has been a crazy and eventful year! Through the ups and downs, we're ready to say goodbye to 2020 and ring in the New Year. Happy New Year to all of you, and here's to hoping 2021 is a great year for everyone!